International stream
The first two years of study at INSA Rennes are based on a core curriculum designed for all engineering students. It also gives them the knowledge of human sciences that are so vital for anybody wishing to choose one of 7 masters of engineering.
Courses in Sciences and Techniques for Engineers
Mathematics, Computing, Physics, Chemistry, Industrial Technology and Science
Human and Social Science, Culture-Communication, Economics-Management, Modern Languages
Business culture: Personal professional project, Job interview simulations, Examination : written evaluation and viva voce
Advantages of the course
Students are paired (one French-speaking and one non French-speaking)
Work in small groups (with individual support)
Advanced courses in French and English
International awareness courses : Geopolitics – international political economy (IPE), Practicals, lectures

Language-based travel and cultural activities
Excursions to Rennes, Saint-Malo, Mont Saint-Michel, Paris, Strasbourg, etc.
Language-based travel abroad
Lectures, concerts, exhibitions, culinary differences, etc.
Internship, 1st Year, international curriculum
One-month internship recommended in a company abroad (non French-speaking country) for French students.
One-month internship in a company in France for international students.
Language preparation before the international stream
Language and scientific training is organized for non-native French speakers before they join the international stream, during a preparatory semester or summer school.
The Preparatory Semester (SPIR*) from February to June (4 months)
The Summer School in August (4 weeks) : French as a Foreign Language lessons (grouped according to level), host family accommodation (full board), themed visits and cultural outings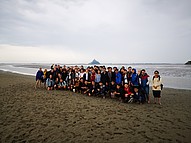 * In French
International stream
Sylvie ROBINET